Gold Members
The West Side Story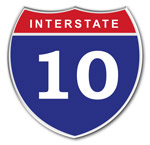 The West I-10 Chamber of Commerce serves the communities of Fulshear, Simonton, Brookshire and Pattison. Check out our service area here. Next time you head our way, we would like to invite you to stop by anytime to check out the great things going on in our area.
Going west out of Houston, travelers will find the "West I-10" corridor, anchoring southern Waller and northwestern Fort Bend counties to Interstate 10 and FM 359, both major arteries of travel and commerce in the region. Within this 250 square mile area lie the cities of Brookshire and Pattison (in Waller County), as well as Fulshear and Simonton (in Fort Bend County).
Poised as the next frontier on Houston's path of steady growth, the area nevertheless remains small town America – anchored in family values and committed to community, church, and education.
Located in the lower coastal plain of the agriculturally rich watershed of the Brazos River, the area is part woodland and part prairie, and receives its economic support largely from farming, ranching, manufacturing, and transportation dependent industries. In recent years, the West I-10 area has been impacted by Houston's urban sprawl, and bedroom communities for the metropolitan area have sprouted throughout.
Serving this growing area is the West I-10 Chamber of Commerce, a group of businesses, individuals, and civic leaders committed to the promotion of economic, social, and civic growth and prosperity.
Our chamber is involved in many local outreach events; it's where business meets community. As a close group of small towns, you will find great friendly folks that work together to benefit all. We believe that strong business involvement creates opportunities for success. We work hard to support our community through strong relationships that go beyond the work place and into the community.
Featured Events

Upcoming Events

New Businesses

Featured Business

Current News

Announcements
2017-08-09
Brookshire EDC Business Expansion Program

Click here for details.

---
2017-08-09
Resolution of support for RISD Tax Swap Ratification

Click here for details.

---
2017-06-17
Brookshire's Community Health Fair

Click here for details.

---
2016-10-27
Royal ISD Tax Ratification Election

Click here for details.

---
2016-03-05
Cane Island Grand Opening

Click here for details.

---